FOOD & DRINK
A personal menu created by our Executive Head Chef to suit all your wedding guests' tastes.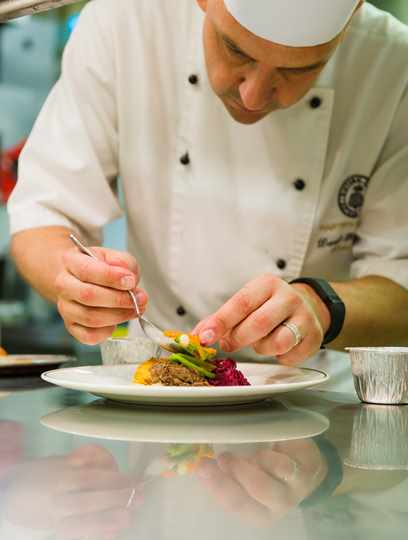 A WEDDING BREAKFAST AS INDIVIDUAL AS YOUR WEDDING DAY
One of the more difficult tasks when wedding planning is choosing a menu suitable to all tastes.  To make your choice a little easier, we can offer suggestions to suit every budget.
A four course wedding breakfast menu, priced at £54 per person, includes two chef's choice canapes, set menu first course, main, pudding, tea & coffee and handmade chocolates.
A wedding breakfast buffet menu, priced at £30 per person, available for parties of over 50 and up to 90 guests (standing).
The wine list offers an excellent selection of styles and flavours of wines.  An extensive range of beers, spirits and soft drinks is of course available.
Any food allergies or intolerance requested can be accommodated.  See specific allergens and special diets for more information.